Rolls-Royce Profit Takes Off
This article was originally published on ValueWalk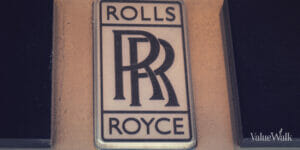 UK/European markets look to steady after US/Asian sell-off.
Bank of England meets to decide whether to hike rates once more.
Rolls Royce reports vastly improved performance at half-year stage.
US Stocks Fall
UK and European futures markets are pointing toward a wobbly start to trading today, after weakness across the pond last night. The US stock market fell 1.4%, as measured by the S&P 500 index, while the tech-heavy Nasdaq Composite tanked by 2.2%.
Much of the weakness originated in the Treasuries markets, where prices have slipped, and yields risen quite notably in the last few days.
Treasuries were hit by payroll data suggesting the US economy is still adding substantial numbers of new jobs, raising concerns that the Federal Reserve may have to go further with rate increases, despite having already delivered the largest, fastest hiking cycle in decades. The yield on US 10-year Treasuries is now pushing toward 4.15% which is within a whisker of its 15-year high level.
Bank of England Meets To Decide Whether To Hike Rates
The Bank of England's Monetary Policy Committee meets this morning to decide where UK rates need to go next. Consensus is calling for a further 25bp hike today, with the Bank seen moderating its rate of increase as signs of moderating inflation emerge.
That would take the base rate to 5.25%, the highest mark since the financial crisis began in 2008. Any further hike could bring the recent easing of mortgage rates to a halt, depending on how far out the markets price the higher rate as lasting.
Rolls-Royce 's Interim Results
Rolls-Royce Holdings PLC (LON:RR) today release interim results showing vastly improved financial performance, confirming its unscheduled trading update last week. Underlying operating profits of £673m and free cash flow of £356m represent increases on last year of £548m and £424m respectively. CEO Tufan Erginbilgic hailed the growth prospects for the company, highlighting recent long-term contract wins that will create future value and profitable growth.
There are good days to release results and there are bad days to do it. For the London Stock Exchange Group, today is one of the latter, after a confident results statement, steering expectations for full year growth higher, only to see the share price caught up in the wider market melee.
It was down around 3-4% in early trading. Even Rolls Royce is down on the back of its report, with the shares dipping 1% at the open. None of this is helped by weakness in bond markets washing over from the US, with the UK 10 year gilt yield some 5bps higher at 4.45% this morning.
Article by Steve Clayton, head of equity funds, Hargreaves Lansdown