NatWest – Margin Guidance Disappoints As Consumers Shop Around For Better Rates
This article was originally published on ValueWalk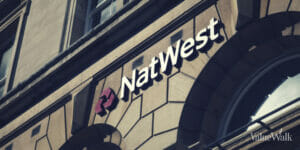 Half-year total income rose 24% to £7.7bn
Net interest margin rose from 2.58% to 3.20%, 3.13% for Q2
Net impairment charge of £223m, default levels remain steady
Earnings per share of 24.3p, up from 18.7p
NatWest's Earnings Disappoint
"It's been a week to forget at Natwest Group PLC (LON:NWG) as it's had to lose two of its top execs because of the Nigel Farage account closure debacle. Today's results probably don't do the group any favours either, despite a slight beat on the bottom line.
We know markets are laser-focused on net interest margin and at 3.13% for the second quarter that was below expectations, leading to a miss on net interest income. But perhaps more importantly, full-year guidance has been dragged lower reflecting the ongoing deposit shift to accounts that offer better rates as consumers do all they can to make cash savings go further.
NatWest should be a little more robust than peers in this regard, owing to the fact more of its deposits are held by small and medium-sized businesses which tend to keep more cash current accounts that are more profitable for banks.
The UK borrower continues to look robust and this was one area of strength in today's results. NatWest increased its expectations of future loan defaults by £223m over the half, though a lower-than-expected number for the second quarter reflects default levels that remain low across the portfolio.
As we saw with Barclays, a new buyback will go some way to easing investor sentiment, but with NatWest much more reliant on interest income, the downgrade to margin guidance will be disappointing for many."
Article by Matt Britzman, equity analyst at Hargreaves Lansdown